Upcoming Events and Exhibitions
Event
Date
Location
Details
The Knitting & Stitch Show
16-19 November 2023
HCC, Harrogate
Venue website
The Knitting & Stitch Show
5-8 October 2023
Alexandra Palace, London
Venue website
Live Interview with @fibreartstaketwo
4 August 2023, 10am BST
Youtube / Facebook Live
Video link
'Hand Stitched Stories' Exhibition
28 June – 6 August 2023
Tetbury Goods Shed Arts
Venue website
'Hand-Stitched Stories' Exhibition and Workshop
19 November 2022 – February 2023 (Workshop: 11-12 February 2023)
Museum in the Park, Stroud
Exhibition info here
Workshop details here
Select Arts Trail 2022 – Open Studio Weekends
14-15 May & 21-22 May 2022
Stroud, UK
Details and Brochure
Online exhibition
14 February 2022
Instagram account @the_unknown_gallery_
Exhibition Posts
Prism Textiles – In Search of Possibilities
19 October – 1 November 2021
The Art Pavillion, Whitechapel Galleries, Mile End Park, London
Whitechapel Gallery Website
Solo show
18 October – 1 January 2021
Stapleford Granary, Stapleford, Cambridge CB22 5BP
Stapleford Granary Website
Solo show, including a furniture collection
7 August – 15 October 2021
The Charles Rennie Mackintosh House, 78 Derngate, Northampton NN1 1UH
78 Derngate Website
Select Arts Trail 2021
19-20 & 26-27 June 2021 (11am-6pm)
Stroud, UK
Details and Brochure
Framework Knitters Museum Residency
December 2020
Online
Framework Knitters Museum Homepage
States of Existence
September 2020 onwards
Socially Engaged Art Salon
Exhibition Page
Outside In Feature
June 2020 onwards
Outside In Website
Exhibition Page
News and Features
Interview for the Knitting and Stitching Show
Click here to read Sabine's recent interview about her upcoming exhibition Hand Stitched Stories at The Knitting & Stitching Show 2023 at Alexandra Palace, London from 5 – 8 October 2023 and Harrogate Convention Centre, Harrogate from 16 – 19 November 2023.

Live Interview, 4 August 2023, 10am BST: Friday Feature Artist with @fibreartstaketwo
Sabine's work on show at the Sainsbury's Gallery, Basingstoke
Article for Textileartist.org: "Getting started with new work"
Click here to read about Sabine's views on the process of starting new work for Textileartist.org, alongside artists Cas Holmes, Nigel Cheney, Emily Jo Gibbs, and Sue Stone.
Exhibition and Workshop: Museum in the Park Stroud
Click here to book your place at Sabine's workshop on 26-27 November 2022 at Museum in the Park, Stroud. Sabine's exhibition runs 19 November 2022 to February 2023 – click here to find out more.
Feature in Embroidery Magazine
Sabine's work features in the September-October 2022 issue of Embroidery magazine.
Select Arts Trail Exhibition 14-15 & 21-22 May 2022
Sabine's work is being exhibited on 14-15 and 21-22 May as part of the Select Arts Trail. Visit this link for further details.
Feature in Inspirations Magazine
A double-page profile and interview with Sabine features in this month's issue of Inspirations. Click here to purchase the whole issue online.
Artist in Residence: Framework Knitter's Museum
Sabine has been announced as Artist in Residence with the Framework Knitter's Museum. More details to follow; see the social media press release on instagram here.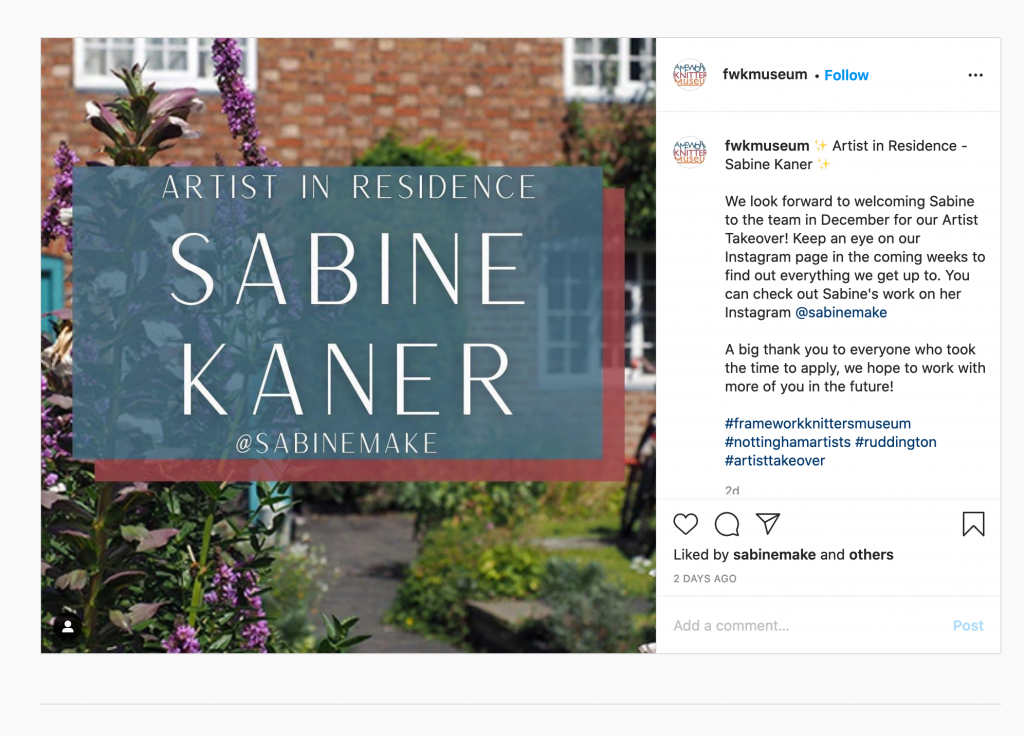 Feature and Interview in MilkX Magazine, Hong Kong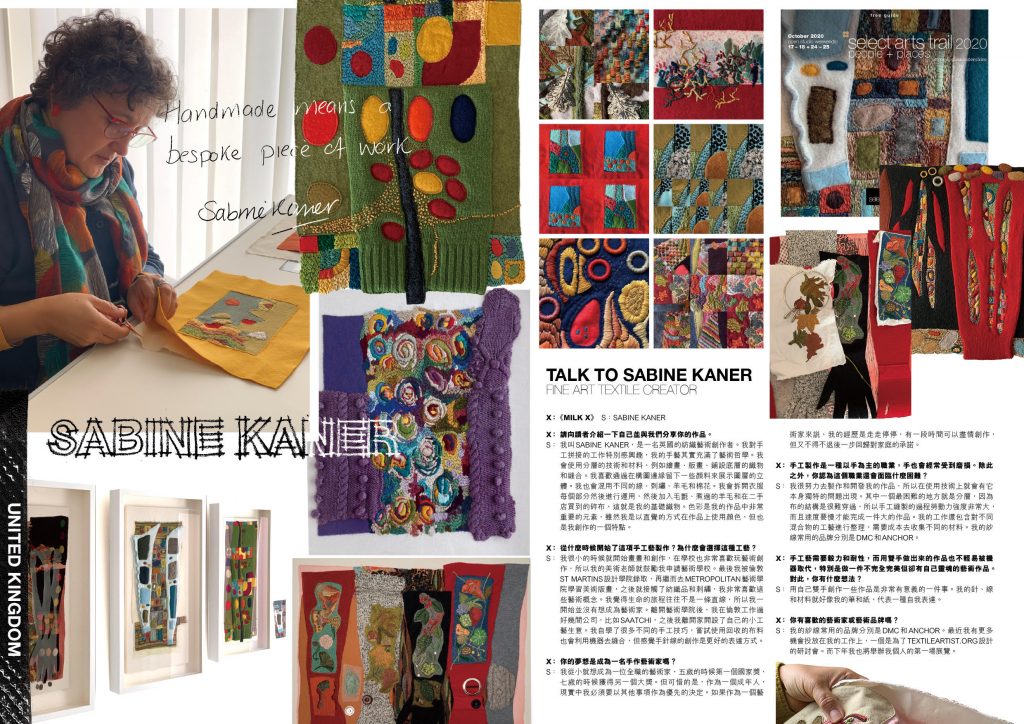 Sabine features in the November edition of the Hong Kong Magazine, MilkX. Visit their site for more info.
Memberships