I went to art school in the 1980s, in London and Manchester, and studied printmaking. I then spent some time working in an unrelated field, had a family and started my own small Arts and Crafts business.
I later studied social sciences and art therapy as a mature student at postgraduate level. Family and life circumstances prevented me from continuing to develop my practice until only a few years ago. I now work with mixed media and draw upon many disciplines to produce my work.
My work is very much informed by my experiences as well as my studies. My identity as a biracial person is intertwined with the work I produce. Compositions often express a very complicated personal journey.
I have a strong interest in Mental Health and Outsider Art, specifically in the perspectives of marginalised people and artists.
I have also worked on various community projects, including an artist's residency in a school focusing on developing early creativity.
Materials & Techniques
My work starts with a piece of calico or linen and is built up from there. I often use felt and selected items of recycled clothing, creating a collage of materials. Some are donated to me by the family or I visit second hand shops. I was trained as a printer so I use familiar printing techniques to make my initial marks alongside drawing and watercolours.
Before I start a piece of work I do quite a lot of initial research into the techniques I want to use and how I would like the piece to turn out, but this is always a loose vision as the piece once started takes on a life of its own.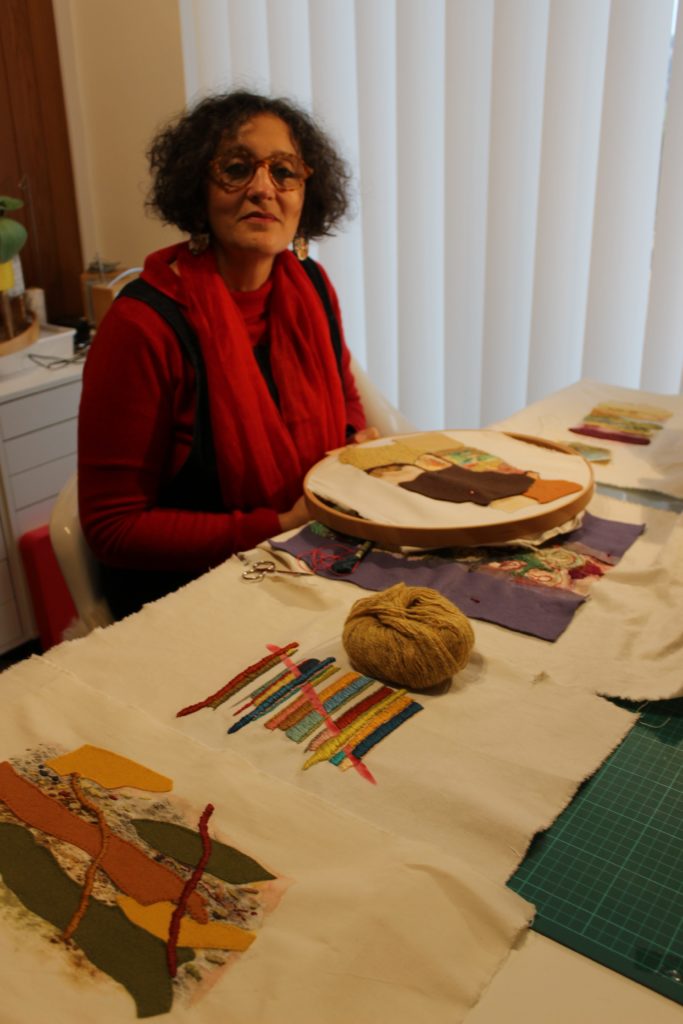 I use a lot of stitching in my work, as I really enjoy the rhythm of hand stitch, and find it very therapeutic. Watching the piece build up through layers of fabric and stitch is very satisfying. My threads are like a box of paints, and for me are what transform the piece into my personal vision.